With so many different cultures living in and around Vancouver, it's only natural that there is a healthy selection of Mexican restaurants in Vancouver. Here are our top picks to dine at while visiting the city. Or if you live in Vancouver and need an idea for a date night out, these are your best bets.
Top 10 Best Mexican Restaurants in Vancouver, BC
Sal Y Limon
701 Kingsway #5, Vancouver
By far one of the best Mexican restaurants in Vancouver. Sal Y Limon has a huge menu to chose from, from tacos and burritos to tortas and quesadillas. This Vancouver Mexican restaurant also has an array of house-made salsas to choose from, from a mild avocado salsa to a diabolical extra hot salsa. 
Sal Y Limon is a popular local favorite. We love their burritos!
Bandidas Taqueria
2781 Commercial Dr, Vancouver
Another East Vancouver treat, this Mexican restaurant is 100% vegetarian. Bandidas is not to be missed by any vegetarian or vegan foodies.
We love the Ronny Russell baked burritos with cheese. The Morgan Taylor breakfast burrito is also amazing. And you can't miss their eggs benny with housemade cornbread. Make sure to try the hibiscus iced tea too.
Everything on the menu is amazing, just try it all!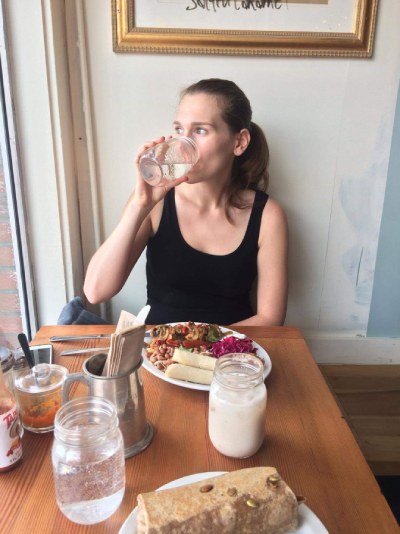 La Mezcaleria
1622 Commercial Dr, Vancouver
La Mezcaleria is a high-end Mexican restaurant located in the heart of East Vancouver. With exceptional cocktails and excellent dining, La Mezcal makes for a perfect date night out on a special evening. The entrees are pricey, but the tacos are quite affordable. Thie restaurant is by far one of the best authentic Mexican restaurants in Vancouver. 
Tacofino Taco Bar
15 W Cordova St, Vancouver
This popular spot is a loud and bustling restaurant that makes for a great date night. Tacofino puts its own spin on tacos creating designer tacos. There's often a bit of a wait for dinner, and tacos run anywhere from $5-9 a piece, but it is well worth it.
Tacofino started out as a food truck on Vancouver Island and was hugely popular with lineups around the block. It has now become a brick and mortar restaurant and has multiple locations throughout Vancouver city.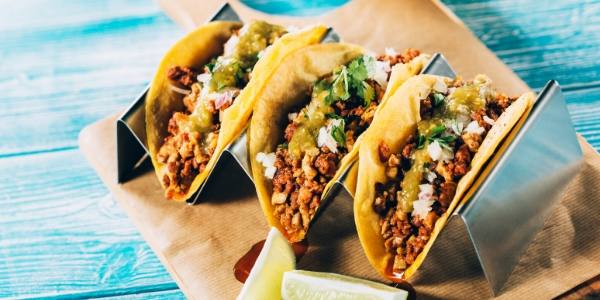 La Cantina
722 Nelson St, Vancouver
La Cantina is a great spot for tacos, burritos, beer, and margaritas. The food and drinks and great, but the artwork that lines the walls is what makes this Vancouver Mexican restaurant really stand out in this city. Everything on the menu is so good. The enchiladas are amazing, the tacos are great, and the tortilla soup is another great option. You can't go wrong!
Gringo
27 Blood Alley Square, Vancouver
Gringo Mexican Restaurant in Vancouver is a simple hole in the wall bar. Located in Blood Alley, this small restaurant calls everyone by their first name for a more intimate feel. With awesome drink specials and large portions, this Mexican joint is great for anyone on a budget. 
Budgies Burritos
44 Kingsway, Vancouver
This locally owned, quirky, and quaint burrito joint is 100% vegetarians and vegan. Budgies is the perfect spot for a lunch break with a friend or a quick tasty and filling dinner before hitting the town.
The food is very affordable and the portions are big, making Budgies a great spot for anyone on a budget.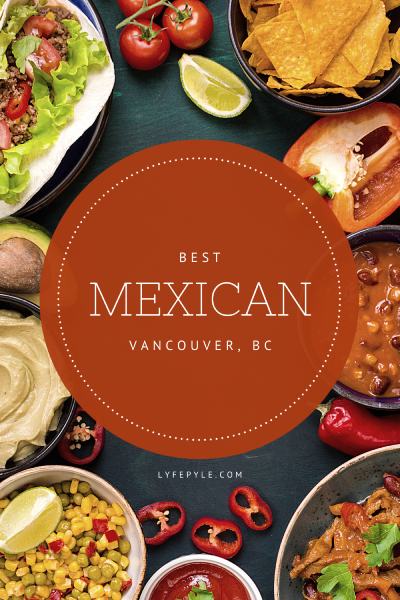 La Taqueria Pinche Taco Shop
2450 Yukon St, Vancouver
Authentic Mexican restaurant in Vancouver with dishes inspired by street stand fare. La Taqueria uses sustainable and local ingredients in their food, making it an obvious choice for eco-conscious individuals. Go at happy hour from 3-6 PM daily for the best deal.
Order at the counter and they will bring the food to you. 
La Tacqueria has multiple locations throughout the city. 
Los Cuervos Taqueria & Cantina
603 Kingsway, Vancouver
Higher-end Mexican restaurant and bar with a great selection of tequila and mezcal. The ingredients are fresh and the tacos are delicious. Don't miss out on their weekend brunch menu and the passionfruit Margherita is amazing!
Los Cuervos is a little bit pricier than other Mexican restaurants in Vancouver, but it's worth every penny. Try the Camaron, you won't be disappointed!
Las Margaritas
1999 W 4th Ave, Vancouver
The perfect spot to eat tacos and drink tequila on a patio while enjoying good conversation with friends or loved ones. Las Margaritas has a warm and welcoming atmosphere with excellent authentic Mexican ingredients and big portions. This Vancouver Mexican restaurant can't be missed during your visit to the city. 
We recommend their mango Margherita and fajitas.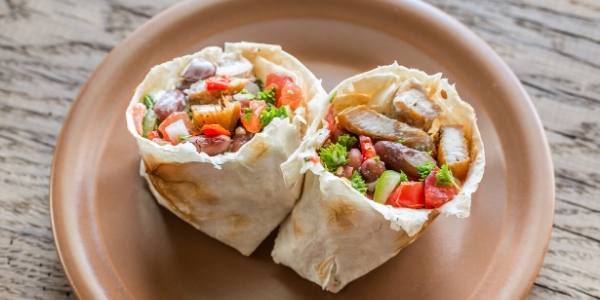 Other Great Mexican Restaurants in Vancouver, BC
Vancouver is home to many great Mexican restaurants, making it impossible to name just 10. Here is a list of a few other Mexican joints in Vancouver worth checking out.
Los Amigos Taqueria – 1118 Davie St, Vancouver
La Casita – 101 W Cordova St, Vancouver
Patron Tacos and Cantina – 265 Robson St, Vancouver
Red Burrito – 1700 Commercial Dr, Vancouver
What Is Egypt Known for & Famous For Egypt holds some of the most glorious and well-preserved monuments of history. Its rich cultural heritage has made it one of the foremost archaeologically-rich countries in existence. Famed for its Pyramids and preserved...