My Dropshipping Experience on Amazon – How I Made Thousands and Almost Lost It
For a grand total of 3 weeks in January of 2020, I decided to try something new and dive into the world of dropshipping. I had some great success, only to be hit by a totally avoidable setback, had I known better. I will share all the gritty details of my dropshipping experience coming up.
Before I start, I want to tell you that I am no longer dropshipping. Not because it wasn't profitable, it was, but because I didn't enjoy it. In fact, I found it quite stressful and tedious. Probably because I didn't have the proper procedures set up. 
If you've come to this article, you probably already know what dropshipping is. But in case you don't and you're wondering, what is dropshipping on Amazon?
Dropshipping is basically finding cheap products for sale online, listing those same products on Amazon (or any other platform) at a marked up price and then, when someone purchases your listing, you go and buy the product on the cheaper site and have it sent directly to your customer.
You may be wondering where to find dropshipping products. I used Aliexpress, but Oberlo and Spocket are two ther common sources.
That is the basics of how dropshipping works.
My Dropshipping Experience – The Breakdown
Now to get into details of my dropshipping experience.
The first thing I did was scour Aliexpress for products that I thought could sell well.
In order to find products on Aliexpress, I searched the type of product I wanted to sell and checked off "4 stars and up" and "free shipping", and chose products that have sold a lot of items. (See image below.)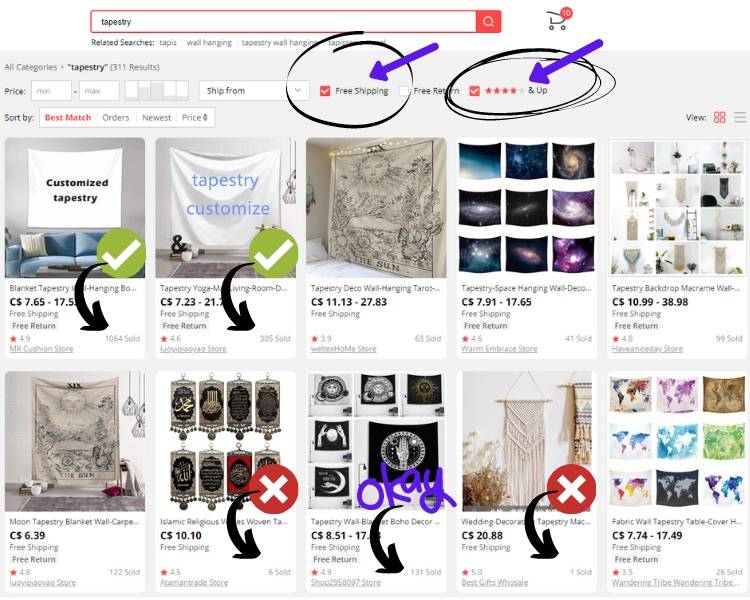 Keep in mind that if you choose a bad product, customers aren't going to be happy and will either want to return it or not come back. 
Next, I set up a few listings on Amazon and waited for the sales to come in. I had less than 10 listings to start.
I created an infographic below to show our weekly revenue and will go through the sales made.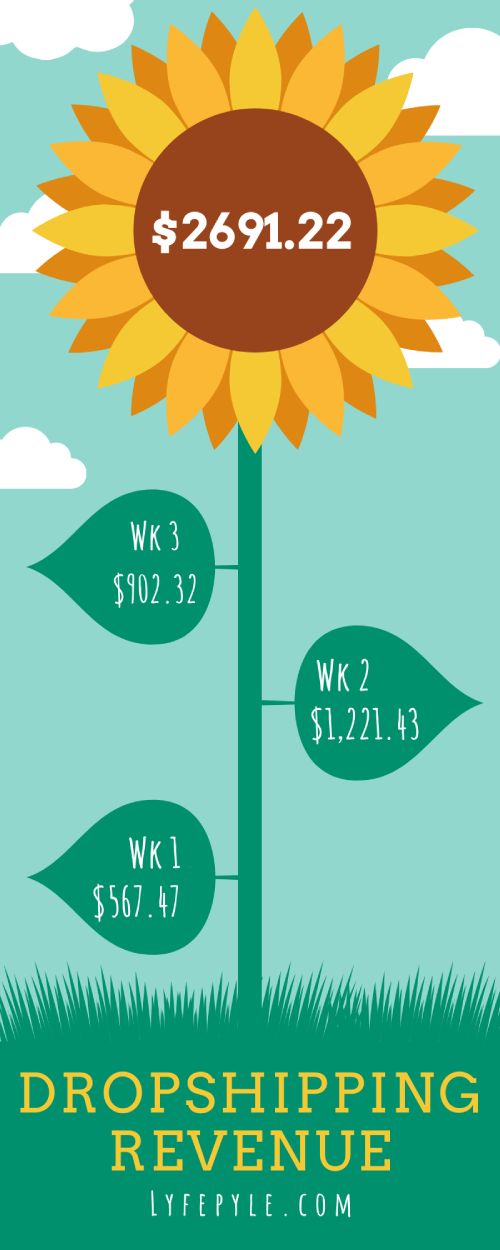 Week 1 – My Experience Dropshipping on Amazon
The first week I had found a handful of products that were selling well. I made anywhere from 3 to 7 sales a day for a total of $567.47 in gross revenue and $286.30 in net profit.
I was seeing the potential with this method of making money online. 
Week 2 – My Experience Dropshipping on Amazon
The second week, I found a single product that sold well and made a large commission on it. I was making up to 15 sales a day. Woot woot!
That week I made $1,221.43 in revenue and $740.94 in net profit. Not bad for my second week
But the end of that second week brought us to January 18th. Anyone who is experienced with dropshipping from China is likely already aware that that was the week the Chinese New Year fell on and anything ordered after the 17th was likely going to be shipped a week late.
I did not know that.
Oh, what I wish I knew then. 
Amazon is very strict with shipping. If you say that you can ship your products out within a certain time frame, you have to have them shipped with a tracking number for your customer within 24 hours of your selected handling time.
If you don't get your shipment out and in Amazon Seller Central in time, it is considered a late shipment and if your late shipment rate goes past 4% your sellers account is at risk of deactivation.
So Chinese New Year hit me hard.
Week 3 – My Experience Dropshipping on Amazon
By the third week I had a handful of late shipments. (When you're only making 5-15 sales a day, it doesn't take much to get to 4%.) When I realized the shipments weren't going to go out in time I decided to eat the loss.
I canceled the orders from Aliexpress and ordered them from a seller in the US for way less of a profit, if any profit at all. I managed to find some products at a lower price than I was selling for, but I took a loss on others. Oh well, at least it would get shipped before there were anymore late shipments!
I ended up losing out on a lot of money on those orders.
Had I not picked the two weeks leading up to Chinese New Year to start, I would have made a killing.
Live and learn.
I managed to make $902.32 in sales revenue, but only $133.66 of that was profit. That's not a great profit margin, but hey, it's still income!

Above is a screenshot of my January sales. As you can see, my best day was 14 sales and just under $400 in sales revenue. Keep in mind, I had under 20 product listings, as I was just trying to test out this method of making money online.
Midway through the third week, I took down the products that weren't getting shipped out from my listings and continued to sell the other products that were still getting shipped.
But it was too little too late. By the end of the third week I had even more late shipments and my late shipment rate had gone up to 5%. I panicked and put my account on vacation mode in order to take a step back and reassess.
Amazon Suspended My Sellers Account
It didn't matter, Amazon doesn't give their sellers much room for error and they suspended my account the following week.
I was able to get it reinstated after sending them an email explaining how I would do better going forward. But it took some back and forth with the Amazon rep. (Let me know using the contact us form here if you would like a post on how I communicated effectively with Amazon to get my account reactivated after suspension.)
It Could Have Been So Much Worse!
I'm so grateful that I stopped when I did. It was around the same time as Chinese New Year that COVID started hitting the news. You may not remember, but China actually extended their Chinese New Year holidays and many companies took two weeks off, instead of the usual one week of holiday.
The shipping from China to the USA still hasn't gotten back to normal as we are still in the middle of the pandemic at the time of writing this. 
So I dodged a bullet with that one!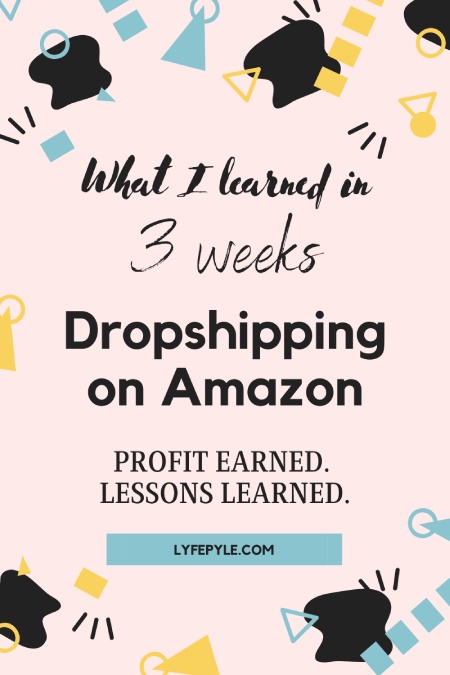 My Final Thoughts on My Experience Dropshipping with Amazon
Overall, my experience dropshipping on Amazon wasn't horrible. But to be honest, I really didn't enjoy the dropshipping process, so I haven't started up again and I'm not sure that I ever will.
If I were to pursue dropshipping again, I wouldn't do it on Amazon. I would start my own Shopify store.
Though many people still do it, dropshipping is technically against Amazon's terms of service and if you get your account suspended and are unable to get it reinstated you may not get your money from them.
Can Dropshipping Make You Rich?
Based off my dropshipping experience on Amazon, there is good money to be made. In my second week, I profited almost $750 with less than 20 product listings. So if you pick winning products and get more listings up, the answer is definitely yes. Dropshipping has the potential to make you rich.
However, it won't happen overnight and I highly recommend taking a course to learn the ins and out of the business.
Good luck!
Disclaimer: This post may contain affiliate links. We may earn a small commission for purchases made through links in this post, at no extra cost to you. 50 Best Selling Low Content Books on Amazon KDP If you are looking for inspiration and ideas for creating...