A Comprehensive List of Print on Demand Marketplaces – Start Making Money Online
So you've decided to try your hand at a Print on Demand business and need a little direction. You probably already decided that you want to start out in this industry by putting your designs on products in a Print on Demand Marketplace that is already established, rather than starting your own brand or online store.
We've compiled a list of Print on Demand Marketplaces for you to join and start submitting your designs to. You can submit designs to multiple and cover more basis! It can be time-consuming, but you never know which platform your design could go viral on.
(If you have no idea what we are talking about, click here to learn more about Print on Demand.)
What is a Print on Demand Marketplace
A Print on Demand marketplace is a website that provides everything for you; the products as well as the marketplace with an established customer base to put your designs in front of. All you have to do is add your design, pick the products you want it on, set your royalty rate, add a few keywords and you are off to the races.
On the other hand, a Print on Demand supplier is a website/company that you integrate with your own e-commerce store. Whether that be through Shopify, WooCommerce, Amazon, Etsy or any one of the other options available to you. You then add your designs to the products that the company supplies and they will be listed in your store.
(If you want to start your own brand or e-commerce store, find our full list of Print on Demand suppliers here.)
We've seen a lot of blog posts all over the internet with lists of Print on Demand websites, telling their audience that it's easy to make money.
Running a successful Print on Demand business is a simple process, but it takes time and effort. Sure, you could get lucky and design a winning product right off the bat, but more likely, it's a slow build of products that sell consistently that will make you the big bucks. This is not a get quick rich scheme.
Other posts online also often mix the two different types of Print on Demand websites together, suppliers and marketplaces. The two are both under the umbrella of Print on Demand but make no mistake, they are not the same. 
This post is only a list of Print on Demand marketplaces. 
Our List of Print on Demand Marketplaces
Zazzle – This platform does really well with monogrammed products as the customers are able to customize the designs. Zazzle has an extensive list of products.

Society6 – Focuses on home decor with simple, clean-cut, modern and contemporary designs. 
CafePress – A mish-mash of everything. One of the original print on demand marketplaces with lots of designs and products. 
RedBubble – Does great with cool graphic art. Products range of apparel to pillows, phone cases, and drinkware.
CowCow – Apparel, home decor, and accessories. This site has a lot of colorful graphic art. 
ViralStyle – A focus on graphic text design on mainly apparel, mugs, necklaces, and other accessories. 
Fine Art America – Mainly for experienced graphic designers and photographers. But something to work up to! 
Threadless – Similar to RedBubble, this site has a lot of cool graphic art. 
SunFrog – Mostly apparel with simple text-based graphics.
Designs by Humans – Mostly apparel with simple clean graphics.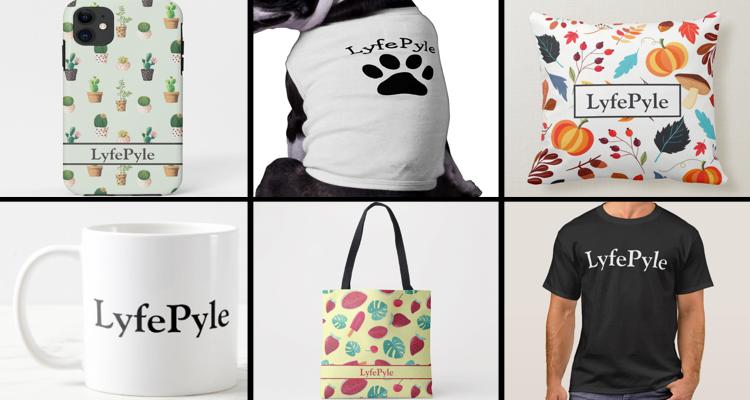 TeePublic – Lots of TShirts with text graphics or simple graphic art.
TeeFury – Mostly shirts and hoodies with some accessories. Simple text graphics do well here.
Spreadshirt – Apparel, drinkware, accessories, and posters. Text graphics and cool colorful graphic art.
INPRNT – Full of professional fine art, photography, illustrations, and graphic design. Products range mostly from phone cases to wall art.
Busted Tees – Shirts, hoodies, and stickers. This print on demand marketplace does well with cute, funny, and funky text and graphic art.
DeviantArt – I remember DeviantArt from way back in the day. Every one of my friends was putting their art on there. But did you know you can sell prints, magnets, mugs, and calendars with your art on them from the platform? 
TeeSpring – Apparel, home decor, and accessories. Lots of text-based graphics and cool colorful graphic design.
Merch by Amazon – Get your designs listed on the Amazon marketplace. Merch offers pop sockets, shirts, and hoodies. You have to apply and get accepted, and it takes time to build your business as they limit the amount you can upload at once, but the potential client base is HUGE.
Art Ads – Art Ads is for professional artists, from the fine arts to photography. 
Casetify – Casetify sells phone cases and other tech accessories. You do have to apply, so you may need to grow your portfolio a bit before giving it a go. 
Create Jigsaw Puzzles – You guessed it! Puzzles! They also have two more websites for playing cards and board games.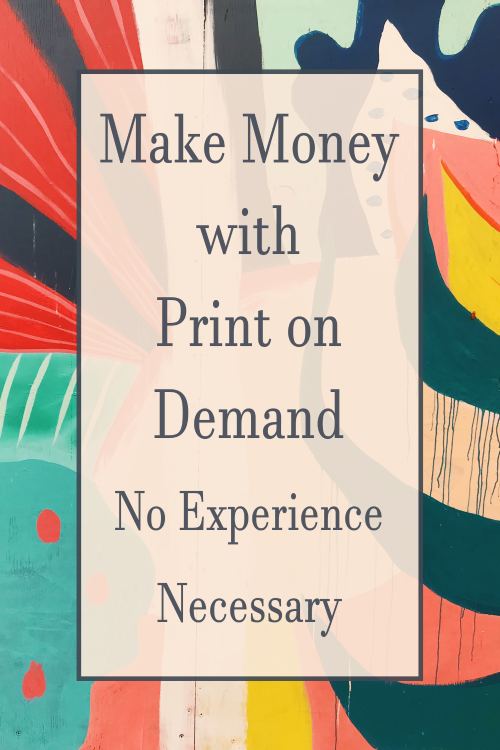 More on Print on Demand Marketplaces
When selecting a Print on Demand marketplace to upload your designs to it's a good idea to consider what sells well on each site. What kind of designs, and products, are the customers looking for on each platform?
In the list above we mentioned for example that Zazzle (the platform that we do well on) does really well with customizable items, monogrammed designs and paper products, such as invitations, greeting and greeting cards.
RedBubble, on the other hand, sells cool graphic art on products like shirts and stickers.
Society6 does well with home decor items with clean-cut graphics with a contemporary feel to them.
Each site has it's own unique strengths, so take another look through each one to see what might work best for you.
And again, it's beneficial to upload your designs to multiple platforms if you have the time to do so.
Disclaimer: This post may contain affiliate links. We may earn a small commission for purchases made through links in this post, at no extra cost to you. 50 Best Selling Low Content Books on Amazon KDP If you are looking for inspiration and ideas for creating...