Disclaimer: This post may contain affiliate links. We may earn a small commission for purchases made through links in this post, at no extra cost to you.
How to Make Money with Print on Demand
There's been a lot of buzz about e-commerce and making money online lately. Running a print on demand business is one of the more popular methods of making money online that is drawing lots of attention. So you may be asking What is Print on Demand, and how can I get started?
WHAT IS PRINT ON DEMAND (POD)
Print on Demand is the process of putting your designs on white label products (EI. tote bags, T-shirts, mugs, hats, etc.) and selling them under your own brand. The products are sold on a pre-order basis, meaning the products aren't produced until a customer makes an order. In other words, you don't pay for the product until after you have made a sale.
Therefore, you aren't buying in bulk and holding on to inventory, hoping something sells and stuck with a bunch of product if it doesn't sell as well as you were hoping.
Print on Demand is a low-risk way of starting a business or even a brand.
PROS AND CONS OF CREATING A PRINT ON DEMAND BUSINESS
Some of the Pros to creating a Print on Demand business is that there is little to no initial investment, you don't have to handle any product as the print merchant handles your shipping, and you can create hundreds of products in no time.
Some of the Cons to creating a Print on Demand business is that you are limited to the products your supplier has in stock, if anything goes wrong with printing or shipping you won't know until after the fact. Your profit margins will be lower as you are only buying one product at a time/as customers purchase it.
After considering the pros and cons, if you are still interested in learning how to make money with Print on Demand and how to start your business, let's take a look at some of the different ways you can approach print on demand as a business model.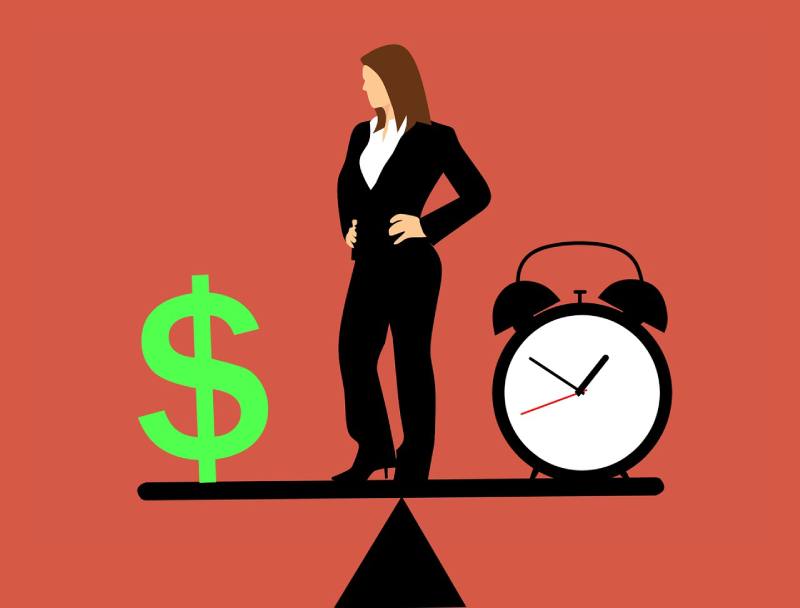 THREE WAYS TO RUN A PRINT ON DEMAND BUSINESS
MAKE MONEY WITH PRINT ON DEMAND THROUGH OWNING YOUR OWN ONLINE STORE
The most ideal way to run your print on demand business is to create your own online store. Building an online store of your own can be done in a few different ways.
The most streamlined way is to open a Shopify account and create a store as most, if not all, print on demand suppliers integrate seamlessly with Shopify. However, WordPress is also another viable option, with a couple of plug-in downloads you can integrate your WordPress site with many print on demand suppliers.
Wix and Weebly are starting to integrate with multiple print on demand companies as well, and, in time, they will likely be great options.
We recommend Shopify for creating a print on demand business as it sets you up with a shipping policy, terms of service, and return policy template, saving you potentially hours of work and frustration. Let's be honest; creating legal policies is not an enjoyable task when starting a new business. You will, however, need to tweak it to suit your business, and then you are good to go. Shopify also integrates seamlessly with multiple print on demand companies. (We like Printify.)
Owning an online store gives you the most freedom and flexibility. You won't have to pay any commission fees and, therefore, will be able to keep all of the profits, less the cost of running the website and production costs.
The downside: You have to drive all of your own traffic. This likely means spending a bit chunk of change on advertisements. Though it is possible to do it all for free with a social media following and great SEO, it will take a lot of time and effort.
We recommend using Printify when you are first starting, as they have plenty of products to choose from, and we like their design platform. It feels very intuitive and easy to use.
However, there are other companies to choose from…
Printful – Similar to Printify, they offer a similar range of products. We find the design tool a bit clunky.
Gooten – Gooten offers more unique products, including pet bandanas and dog beds!
CustomCat – CustomCat offers a lot of unique apparel options. They also have laptop sleeves, dog tags, and mugs.
Check here for our full list of Print on Demand supply companies and multiple different product niches you can sell.
PUT YOUR PRODUCTS ON AN ESTABLISHED MARKETPLACE
If you aren't up for the headache that comes along with creating a website of your own, or simply don't have the money to put into it quite yet, listing your products on an established marketplace is another great option. Some examples of established marketplaces are Amazon, Etsy, eBay, Storenvy, or Wish. There are many others.
This is a little like putting a brick and mortar store on Main Street or in a busy mall. The foot traffic is already there, and you'll only need to make your products stand out from the rest of the stores on the block.
Though not completely free, this option does come with some costs. Each platform is a little different from the next, so here is a quick overview of our top choices.
Amazon has two seller options. They charge a monthly fee for a seller's account plus a 15% commission on everything that you sell, OR they have a free account option, but you will be charged $1 plus the 15% commission for each sale instead. That can cut into your profit margins quite a bit once you start selling, but it's also a great option when your first starting and test your designs.
Etsy is free to have an account; however, they charge a 20 cent (USD) listing fee for each product, and the product listings expire after three months unless you renew them (another 20 cents.) Here is a link that will get you 40 free listings. Etsy charges a 5% commission per sale.
EBay is free to list, and there is no monthly fee to sell on their platform, they charge a 10% fee on every sale that you make. However, you can only list up to 50 new products each month, or you have to start paying per listing.
Storenvy is free, with a 15% commission per sale. Stoerenvy is still a relatively unknown selling platform, so the client base isn't there yet. There has also been some negative talk regarding Storenvy over the years, and buyers are skeptical and have a hard time trusting merchants on Storenvy due to negative reviews. However, it is still worth mentioning, and if you are just starting out, it doesn't hurt to get your products up on as many platforms as possible, you never know which one it will sell on.
Wish is free with a commission fee of up to 15%. Wish is known more as a dropshipping platform. Customers expect low prices with longer shipping times. It may work for a print on demand business in the short term to make some profit and get yourself off the ground.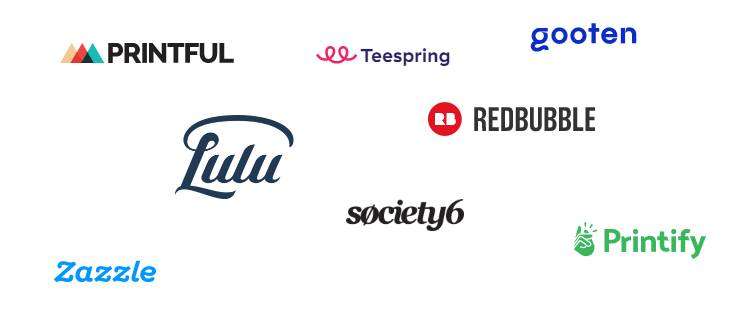 SIGN UP FOR AN ALL IN ONE PRINT ON DEMAND WEBSITE/MARKETPLACE
There are quite a few websites out there that connect designers with suppliers and offer a marketplace to list the products all in one. They are free of charge and a great place to start if you are feeling unsure of the print on demand business model. It's a set it and forget it, passive, income stream.
All that you need to do is sign up and start uploading your designs on their products, pick some keywords, and set your commission rate. The profit margins are a lot smaller with these websites, but if you're making sales and getting a little paycheck every month for the next five years for a bit of work you did way back when then who cares! Some make a full-time income from this method alone.
Let's take a look at some of the different all in one Print on Demand websites that you can align yourself with. Each site has certain products and designs that sell really well, so look to your strengths to help you decide which site might be right for you. And remember, you don't have to pick just one, you can set up accounts with all of them and list your products on multiple websites if you want. The only downside is that it is time-consuming.
Zazzle – Zazzle is an excellent platform for personalized stationery. The paper products on Zazzle, such as invitations, business cards, return address labels, etc. sell really well, and the products are customizable. Monogrammed products are very popular on Zazzle.
RedBubble – RedBubble does well with colorful and vibrant graphics. Unique graphic designs with a funky feel to it seem to do well on this site.
Society6 – Society6 sells a lot of household interior decorating items such as blankets, rugs, pillows, and tapestries. The artwork that does well on this site is modern, contemporary pieces.
Spoonflower – Spoonflower is a fabric design website. Patterns are perfect for this site!
Threadless – Threadless is all about T-Shirts. They sell other products, but apparel is their main game.
See our more comprehensive list of Print on Demand marketplace websites here.
PRINT ON DEMAND TIPS AND TRICKS
NICHING DOWN YOU PRINT ON DEMAND BUSINESS
There are two schools of thought when setting up your print on demand store. To niche down or not to niche down.
You can go the more general route, and put whatever designs look good to you on every product you possibly can and hope some of them do well.
Or, you can pick a specific niche and focus in on it. An example of a niche could be dogs; people love dogs; they are passionate about dogs. But there are hundreds of thousands of designs with dogs on them out there. Can you make yours stand out? Probably not.
This is where you may need to niche down even further. What about dogs and football? Dogs playing football? That might speak to a more specific audience. And someone passionate about both dogs and football is way more likely to buy this product as they won't be able to find a design like that just anywhere!
If you are posting designs on an all in one print on demand website/marketplace like Zazzle or RedBubble, it won't hurt to post general designs as your products are going to get found using your keywords and titles. And it might even be a great way of seeing which of your designs does well and is potentially worth creating a niche around.
However, if you plan to self-host your own website, you are better off coming up with a specific niche. It will make advertising to your audience that much easier, and you will get more out of your ad spend.
GRAPHIC DESIGN FOR PRINT ON DEMAND
You may be reading all of this and thinking, Print on Demand sounds like a pretty good business, but I'm not a graphic designer. Well fair enough, neither were we, but there are ways around that. You can have designs made for you for fairly inexpensive on sites like Fiverr or use graphics through Creative Market or Creative Fabrica. There are so many options to help you start designing.
When using graphics from another website, make sure you read the licensing on any graphics that you want to use. You will need a commercial license, and you will need to read the fine print as every license is a bit different.
A few websites worth checking out are Creative Fabrica, Creative Market, The Hungry JPEG, Pixabay, Unsplash, and Pexels.
If you look at the designs on the Print on Demand marketplace websites that are selling well, you'll notice that a lot of them are very simple designs. With some determination, hard work, and a little bit of luck, you can find a winning product reasonably quickly.
If you need design inspiration, look to Pinterest, Instagram, Facebook Pages, and Reddit for ideas. One trick we have used is to start typing an idea in the Pinterest search bar and let it auto-populate with words to help you narrow down the niche for you.
FINAL TIPS FOR YOUR PRINT ON DEMAND BUSINESS
Pictures are king! If you are selling on a website of your own or an established marketplace, you will need great photos to capture your potential customers' attention. Order samples of your products and take photos put on display for your customers.
You should always order samples to check the quality of your product regardless, and once you have the samples, you may as well take some great photos showing off your product and design!
The print on demand websites also come with mock-up designs which can do the trick. But it starts to look a little spammy if you have a hundred of the exact same photo of the product with a different design on it. Depending on the product, it can look fake, and customers don't like it.
Shipping is a deal-breaker. Online shoppers love free shipping, some sites, such as Etsy even favor sellers that offer free shipping, by listing them higher in the search results.
Unfortunately, none of the Print on Demand companies, that we know of offer free shipping. However, you can work the cost of shipping into the price of the item strategically. Mark up the price of the product and offer free shipping to entice customers to buy.
Social Media can be helpful, but it can also be a time suck. It's easy to sink hours into social media, convincing yourself that it is helping your business. Though it's important to have a social media presence, as it lets your customers know you are legit, it isn't the be-all-end-all of your business. Post photos and engage with your audience as much as reasonably possible. But keep in mind that apps like Instagram and Pinterest are meant to keep users on their platform and grow their clientele, it's not meant to help you grow yours.
Build an email list. Build an email opt-in on your webpage so that you can notify potential customers when you come out with a new design that they might like. If you've niched down and it's a topic that they are passionate about, then you may be able to build a strong email list full of future paying customers. It helps to offer a freebie to entice people to sign up for your email lists. How about a free printable poster of a unique design?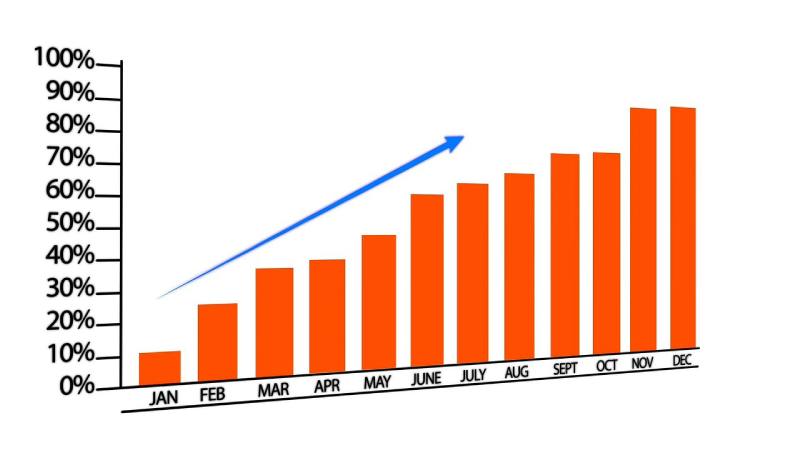 Though the steps are pretty simple and straightforward, it can take time to find a winning design. Take your time, don't skip steps and focus on quality. Building a business is a long term endeavour and it doesn't happen overnight. Slow and steady wins the race.
Learning how to make money with Print on Demand is a fantastic opportunity for anyone just starting on their entrepreneurial journey. It can also be a lo
w-risk way of testing out a product design idea before investing in inventory.
Whether your end goal is to own a print on demand empire or just to get your feet wet in e-commerce, there's no doubt that you will learn a lot in this endeavor.