The whole world is at a standstill with the ongoing Coronavirus pandemic, which has left many travelers eagerly waiting for their next trip.
With lots of countries easing travel restrictions, the reality of your next trip is getting closer. But you might be wondering, where should I travel after COVID 19? 
You may be eager to pack your bags and take the next flight out of here; however, it's best to do some planning and research on which countries are safest and open to tourists.
If you are looking for travel ideas after COVID 19, then here is our list of our top country destinations for tourists after COVID 19.
Best Places to Travel after COVID 19 – Our top country destination picks
With France opening up restaurants and cafes, the french are coming out on top against COVID 19. France is eager to open up their travel economy quickly and safely for everyone. Read this news article for more info on France.
France is the most visited country in the world for many different reasons. The country of France will leave you breathless with all of its countless sights and sounds.
With wine vineyards in the countryside, blue waters of the Mediterranean, cities with centuries of incredible history, and of course, Paris, the city of love, not to mention the countless other cities and towns for you to fall in love with. 
France is one of the most romantic travel destinations, making it an excellent choice for couples. It is still a great choice for families and solo travelers. France has many world-class museums, some of the best dining in the world, and sights that take a lifetime to view them all.
Capital City: Paris
Top Sights: The Louvre Museum, Eiffel Tower, Palace of Versailles
Italy is a picturesque country, with stunning landscape, rich history, and some of the best food in the world. Italy has it all and more. From its breathtaking coastline, cities where some of history's greatest minds developed and did we mention the food.
Italy and China are tied for the most UNESCO World Heritage Sites. Throw a rock, and you will hit a remarkable historic site. 
Italy has many cities that are all worth checking out; Rome, Naples, Venice, Florence, and Milan, just to name a few. Italy will leave you wanting more once you step foot in this amazing country.
Capital City: Rome
Top Sights: The Colosseum, Pompeii, Trevi Fountain, Duomo Di Milano (Milan Cathedral)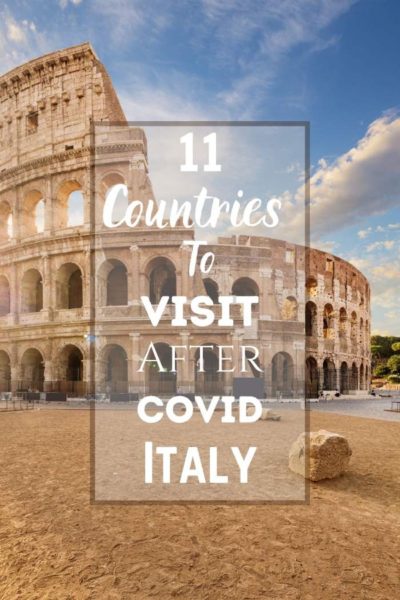 With consistently low numbers coming out of Japan throughout the pandemic, Japan may be a safe place to travel when things settle down. 
Japan is a country deeply rooted in tradition. The island nation has been inhabited for more than 35,000 years, giving it a remarkable history. Japan is a mix of old temples and shrines with city centers of our modern age.
The island is home to not only awe-inspiring architecture but also has some unrivaled natural beauty, with both ocean and mountain views. Japan has something to offer all travelers, whether its food, culture, or history; its sure to fulfill any traveler's wanderlust.
Japan is one of the safest countries in the world.
Capital City: Tokyo 
Top Sights: Mount Fiji, Jigokudani Monkey Park, Osaka Castle
Turkey sits on the border of Europe and Asia, offering up amazing historical buildings and delightful dining opportunities. With spices from Asia and culinary influences from Europe, you will find both your stomach and your heart full.
Stroll through the historic streets of Turkey's largest city, Istanbul. Istanbul was once the capital of the eastern part of the Roman empire, who called it Constantinople. Many empires have fought over this city throughout history, and once you set foot on the soil, it's easy to see why.
There is so much more to Turkey than just the city of Istanbul, from it's Mediterranean coastline to the interior mountains and ancient city sites there is so much to see.
The country is split between Islamic traditions and western ideologies. One has to visit to see all of its splendor.
Capital City: Ankara 
Largest City: Istanbul 
Top Sights: Hagia Sophia, The Blue Mosque, The Grand Bazaar, Ephesus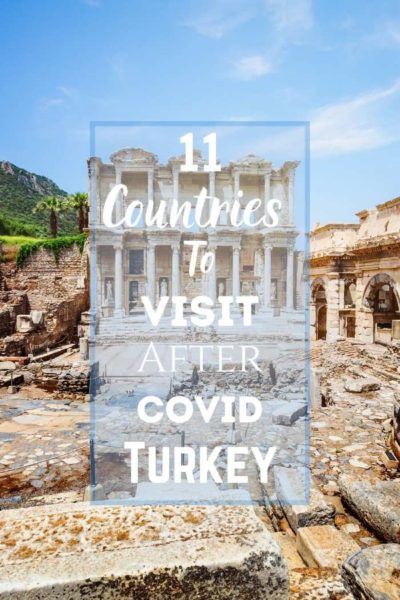 Thailand is now one of the world's great tourist destinations. Thailand has so much natural beauty from its picture-perfect coastlines, thick jungles and wildlife unique to Thailand, to cities full of all culture, history, and partying. Thailand is a must for any traveler venturing into South-East Asia.
Thailand is cheap for international travel and has a well-developed tourism industry. For many travelers, Thailand is a paradise; this is clearly represented by the millions who flock there every year. But even with so many travelers, there are still many areas untouched by tourism and yours to experience. 
Capital City: Bangkok
Top Sights: The Grand Palace, Wat Arun, Wat Rong Khun (White Temple), Phang Nga Bay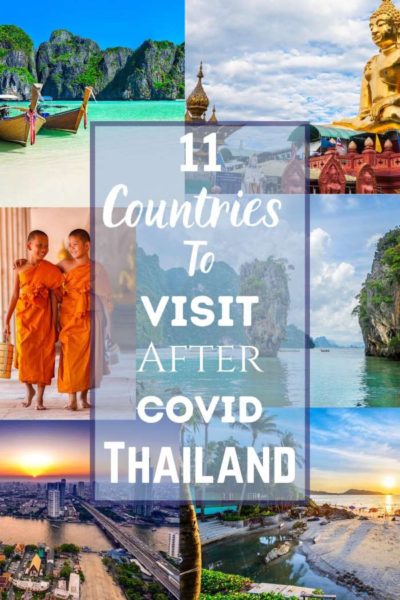 One of the most stunningly beautiful countries in the world, Vietnam has a massive coastline with incredible beaches and thick tropical jungle forests. The country is full of natural beauty, delicious food, friendly people, and is very cheap for travelers. Vietnam has so much to see and do, with a rich history both ancient and modern.
There is no bad time to visit Vietnam, whether you visit the mountainous north of the country or the sprawling beaches of the south. Many travelers will tell you Vietnam is one of the best travel destinations in the world. 
The late Anthony Bourdain was a huge fan of the country, Vietnam was his favorite place on Earth. It is easy to see why once you have spent any time in this magical country.
Capital City: Hanoi
Largest City: Ho Chi Minh City (formerly Saigon)
Top Sights: Hạ Long Bay, Paradise Cave, Hoan Kiem Lake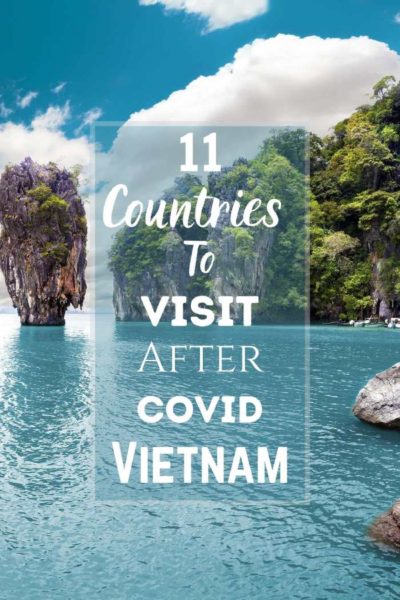 Canada is the second-largest country in the world. With so much territory, the country is full of so much natural beauty. Canada has so much to offer when it comes to the outdoors from the Rocky Mountains to the hundreds of thousands of lakes.
Canada also has some great cities from Toronto, Montreal, and Halifax on the east coast to the west coast cities of Calgary, Vancouver, and Victoria. (Check out our FREE Vancouver Travel Guide here!) With so many smaller towns and villages throughout the country, each offering something a little different than your average holiday.
Canada is one of the safest countries in the world, and Canadians are some of the friendliest and most welcoming to people of all different backgrounds and beliefs. Canada is always welcoming to all travelers and invites all people to come and awe at what is Canada.
Capital City: Ottawa
Largest City: Toronto
Top Sights: Niagara Falls, CN Tower, Old Quebec, Granville Island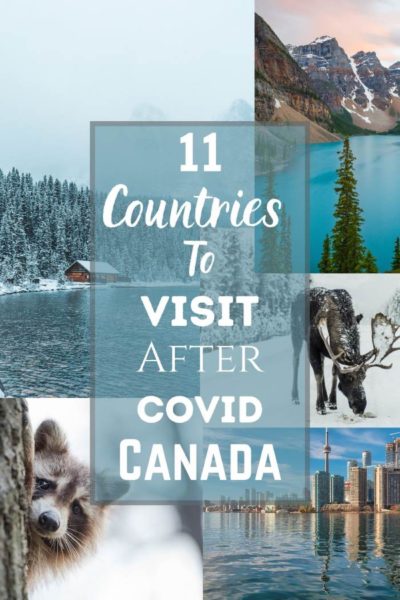 Costa Rica is one of the safest countries in Latin America. With access to both the Pacific Ocean and the Caribbean Sea, there is no shortage of beaches and water.
Costa Rica is known for its lush jungle rain forests, which cover the whole of the country. In recent years the country has seen a boom with eco-tourism and for a good reason.
Costa Rica has some of the richest biodiversity in the world. This small nation in Central America is only 51,000 sq km, 0.03% of the earth's land surface, but accounts for 6% of the earth's biodiversity. 
Costa Rica is an ideal destination for any traveler excited for an adventure.
Capital City: San José
Top Sights: Arenal Volcano, Rincón de la Vieja National Park, Tortuguero National Park
Croatia has gained quite a lot of fame in recent years as one of Europe's top travel destinations. With a growing tourism industry, Croatia is one of the success stories to come out of what was once Yugoslavia.
The natural beauty of Croatia is one of the biggest draws to the country, from the blue seas of the Adriatic, mountains, forests, and waterfalls. Croatia is known for its amazing coastline and its medieval towns set along the water with some formidable old castles and forts.
Croatia has one of the sunniest coastlines in all of Europe, which makes it even more desirable to travelers escaping for a sunny beach holiday. 
Capital City: Zagreb
Top Sights: Hvar, Plitvice Lakes National Park, Krka, Old City of Dubrovnik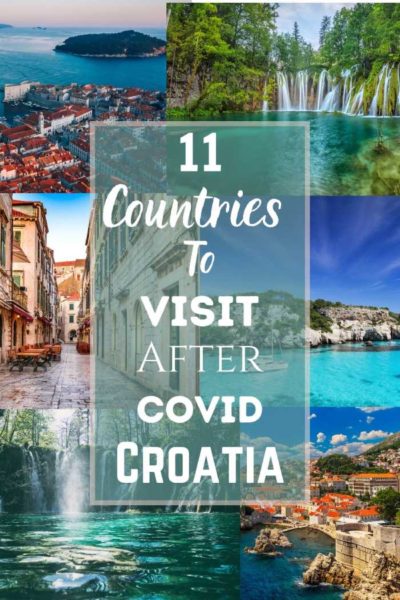 Australia, known as the country down under, has some of the most unique wildlife in the world. With so many different species only found down under. Australia's biodiversity is hard to rival.
The country is mostly a dry, desert-like landscape. 90% of Australians live within a 100 km distance to the ocean. It's harsh interior lands make it a hard place to live with temperatures climbing up to around 40-degree celsius.
The ocean and beaches are one of the biggest draws to the country, famous for its Great Barrier Reef as well as the ocean waves, bringing thousands of surfers to its waters every year.
Australia is one of the largest countries in the world for its relatively small population, with an average of 3.3 people per sq km.
Watch out for the drop bears! And really anything that moves, Australia has 20 out of 25 of the most deadly snakes in the world. 
But not to worry, take a page from the Aussies' book and just chill and relax. They deal with deadly wildlife daily, and they have a really low death rate due to snake bites.
Capital City: Canberra
Largest City: Sydney
Top Sights: The Great Barrier Reef, The Sydney Opera House, Uluru, Twelve Apostles
Indonesia, an archipelago in South-East Asia, is known for its shoreline, having the third-largest coastline in the world. This island nation has active volcanos, lost jungle tribes, major city centers, surf, beaches, and so much more. The country is a world hotspot for surfing and diving with mega waves, and a wide variety of fish found only found in the waters off its shores.
Indonesia is also home to the largest Muslim population in the world. With a population of 270 million people, about 87% are Islamic, making it the world's largest Muslim country.
The country has a long history, once being a Dutch colony. The Dutch influence is apparent in the cuisine. 
Indonesia is super cheap for western travels, even with the mecca hotspot of Bali. With thousands of islands, many of which are unnamed and uninhabited, it is an excellent place to find your slice of paradise.
Capital City: Jakarta (Capital is expected to move in the years to come)
Top Sights: Ubud Monkey Forest, Tanjung Puting National Park, Uluwatu Temple, Garuda Wisnu Kencana Cultural Park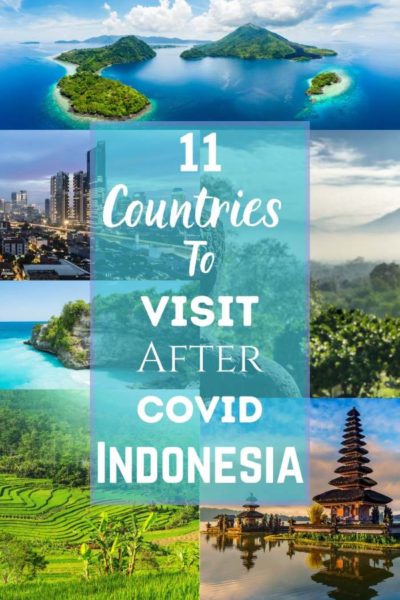 These are our top picks of countries to visit after COVID-19.
Each country was chosen for several reasons. One of the main factors was the level of infection and how well they are dealing with the coronavirus. 
Another factor being the importance of the tourism industry to each country, meaning the country will prioritize the safety of their travelers as they rely on tourism for their economy. 
Nobody knows exactly what the travel industry is going to look like after COVID. But people will always figure out a way to travel, explore, and see the world regardless. 
What Is Spain Known for & Famous For? Spain has fascinated people for centuries and is still an extremely popular tourist destination. If you're one of the people drawn to Spain by its rich history and culture, you probably want to learn a few things about its...